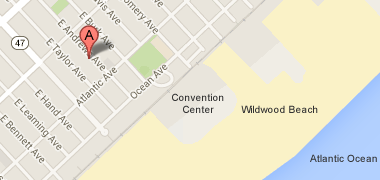 The Perfect Location
LeVoyageur Motel is surrounded by the finest activities and attractions the Jersey Shore has to offer.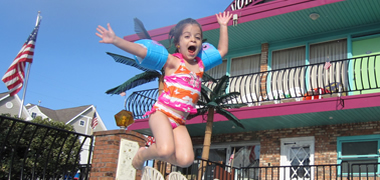 Family Fun
There's plenty to do for you and your family at LeVoyageur in Wildwood.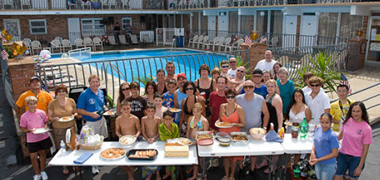 Join Our Family
We want you and your family to make LeVoyageur your vacation destination year after year!
Perfect Location for Business or Leisure: LeVoyageur Motel is surrounded by the finest activities and attractions the Jersey Shore has to offer. The Wildwood's Convention Center, 2 mile Boardwalk and pristine Wildwood beach are only 800 feet from your room! Boardwalk attractions such as the Morey's Amusement Piers, along with their Raging Waters water park and the Splash Zone water park offer fun for both families and couples.
Award winning service is brought to you by your hosts Rose and Tim along with their staff.
As we prepare for our new season, we wish you and your family good health and God's blessings. Thanks to our family of loyal customers, LeVoyageur Motel offers you the highest quality accommodations at competitive rates. Experience an unforgettable family vacation or romantic weekend getaway at LeVoyageur Motel, the perfect setting. We're a 15 minute drive to Wal-Mart, Walgreens, 8 plex stadium seating movie theater, historic Victorian Cape May and our FREE Cape May County Park & Zoo.
Arrive early on day of check-in or stay late on day of check-out and use our courtesy bathroom for your personal needs. This room is equipped with shower, toilet, sink and hair dryer. You must use your own towels for the courtesy bathroom and park on the street before check-in time or staying late on day of check-out.
There is no additional charge when using a credit or debit card.
The rate remains the same when extending weekdays into the weekend.
My family and I have been vacationing in Wildwood our entire lives and we wouldn't stay anywhere but the Le Voyageur Motel. The rooms, pool and staff are wonderful. They can never do enough for us. Tim the owner goes out of his way always to make things just right for me and my family. He makes sure that everyone is having a wonderful time. It's our home away from home thanks to Tim and his staff. I wouldn't go anywhere else.
This is my go to place. It has the best location and the friendliest staff. The rooms are very clean! The boardwalk is walking distance, a block away. It is also walking distance from several good restaurants.
What a great place! Room was super clean And quite! The staff was very friendly.We already booked 8 days for next year. You can't go wrong if you stay here.Been coming to Wildwood every year now for 30 to 35 years. Stayed at ALOT of places Including the Shore Plaza. Well I can tell you that LE Voyageur is our new go to stay every year now. Thank you La Voyageur for a GREAT STAY!!👍👍